A Refreshing Change: Rewards of Bathroom Remodeling in Sylvania, Ohio
In the ever-evolving world of Sylvania, Ohio home improvements, few projects hold as much transformative power as bathroom remodeling. Beyond mere aesthetics, a professional bathroom remodel can revolutionize your daily routines, enhance the functionality of your space, and infuse your home with a renewed sense of luxury. From modern fixtures that blend style with water efficiency to spatial arrangements that cater to evolving family needs, the benefits of investing in a bathroom remodeling project are as numerous as they are rewarding. Whether you're seeking a peaceful oasis for relaxation or an efficient hub of convenience, prepare to be inspired by the possibilities that bathroom remodeling can bring.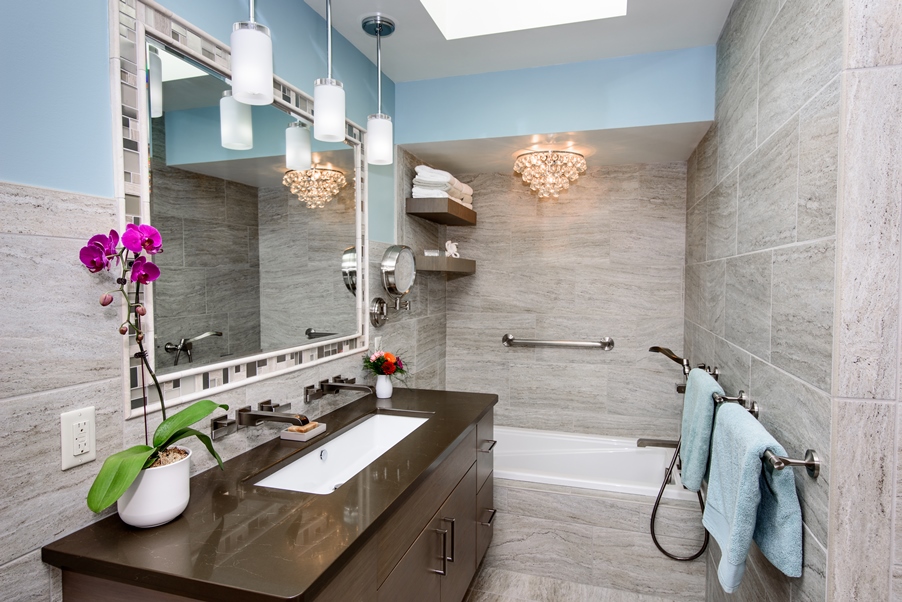 Creating Safety and Accessibility with a Bathroom Remodel in Sylvania, Ohio
If you want to stay in your Sylvania, Ohio home well into your retirement years, you'll want to keep that in mind during the planning phase of your bathroom remodeling project. As you and your family grow older, the accessibility of your bathroom becomes more important. Maturing adults need space to move and fixtures that will keep the bathroom easily accessible.
More homeowners are considering aging in place instead of making a move when accessibility is more of a challenge. If you hope to stay in your home during your retirement years, consider the requirements you may need. While you may not need grab bars or safety rails yet, you want to make sure that you are creating a space that can accommodate them when the time comes. Raising the height of the toilet can be beneficial, installing a bidet can help with hygiene, and installing lever faucets can be less complicated to use for arthritic hands. Rather than a traditional tub/shower unit, homeowners who are hoping to age in place often consider a walk-in shower or tub.
An Investment in Better Functionality
Remodeling projects can be expensive. Many homeowners are worried about their bathroom remodeling budget spiraling out of control so they consider a DIY approach. Opting for a bathroom remodel led by a skilled contractor is a smart move that pays off in the long run. While it might seem like a big initial expense, a professional's expertise and careful work can bring you unmatched benefits. Beyond the obvious visual makeover, having a pro on board ensures that every aspect of the project is done right, from plumbing and wiring to the structural stuff. This not only guarantees a stunning outcome, but also reduces the chances of future problems and costly errors along the way.
An experienced contractor can offer fresh and clever design ideas that make the most of your space and needs. As trends and technologies change, a professionally upgraded bathroom remains valuable, increasing your home's overall worth and provides lasting satisfaction. Teaming up with a bathroom remodeling contractor in Sylvania, Ohio turns a simple renovation into a solid investment.
Bathroom Remodeling Dos and Don'ts
When you are remodeling your bathroom, you want to make the right choices. There are some things that you can do to make your project a success, but a few pitfalls you want to avoid. Some of the most important dos and don'ts include:
DO set a budget for your project. During any remodeling project it can be very easy to get carried away with top-of-the-line features and fixtures. Remember the budget you set and work with your contractor to make the best use of every dollar. There are plenty of high-quality options to fit every budget, and your contractor can help you decide where to splurge and where to save.
DON'T forget to build room in your budget for the unexpected. Whenever you are working with a room that has a water source, the potential for hidden water damage is present and you want to make sure you have room in your budget to address potential problems.
DO think about efficiency. Environmentally friendly "green" homes are growing in popularity. Showers, toilets, and faucets have all become more water efficient, and are able to save on water usage without sacrificing water pressure.
DON'T cut corners. Bathroom remodeling should be viewed as an investment, and some homeowners try to cut costs in the wrong ways. You want to make sure that you are investing in professional work, as well as high-quality materials that will make the greatest impact, like tile and fixtures.
Finding the Right Bathroom Remodeling Contractor in Sylvania, Ohio
When it's time to begin your bathroom remodeling project, it's time to find a professional. Finding the right bathroom contractor can take some time and research. Begin by looking to local family, friends, and other contacts for recommendations. Those contacts you know who have recently done a remodeling project are a great resource, both for who to look at and who to avoid. Make sure that once you begin researching contractors you verify that anyone who is invited into your home to do any work is licensed, insured, and has the right certifications. As you talk to contractors, look for one who matches your communication style. Once you've settled on about three potential contractors, invite them to look at the space, discuss your project vision with them, and have them give you an estimate. When you look at estimates, don't focus only on the dollar amount, but what that estimate includes. Although price is obviously important, the quality of the work and the professionalism of the contractor are just as – if not more – important to the overall success of the project.
Total Quality Construction has the experience and expertise you need to make your Sylvania, Ohio bathroom remodeling project a success. We take pride in both our work and our reputation and will ensure that you are definitely going to love your new bathroom. When you are ready to begin your bathroom remodeling project, consider Total Quality Construction as your trusted local remodeling partner. Contact us today to schedule your estimate.