Bathroom Remodeling Your Expert Guide to Successful Bathroom Remodeling in Perrysburg, Ohio
You want your Perrysburg, Ohio bathroom to be a space in your home that is not only functional but also a place where you can relax. Old, outdated bathrooms often pose a range of challenges for both aesthetics and functionality. These spaces can exhibit worn and discolored fixtures, obsolete design trends, and inefficient plumbing systems. Mold and mildew can thrive due to inadequate ventilation, and outdated tile patterns and color schemes can make your space visually unappealing. Additionally, the lack of modern amenities like water-saving fixtures and improved lighting can lead to higher utility bills and an overall uncomfortable user experience. Renovating bathrooms becomes essential to enhance your space's appearance, usability, and efficiency.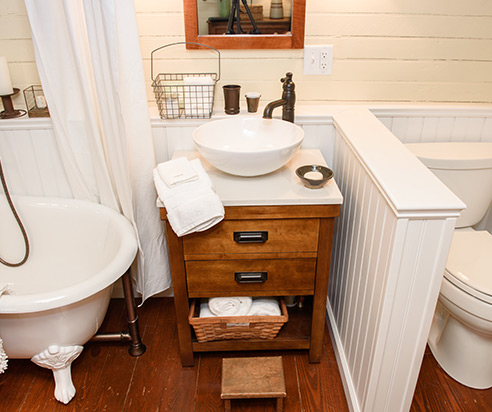 Space Saving Ideas for Your Bathroom Remodeling Project
Small bathrooms can present storage challenges. If the basic footprint of the room is small, you can't magically turn it into a large space. However, what you can do is make the right choices to turn even a small space into a relaxing oasis.
Using a wall mounted toilet and compact sink are two options to save space in a small bathroom. A narrow sink will help visually expand the space, but will provide the same functionality, and a wall mounted toilet can do the same. Not having a large vanity or large toilet tank allows for more floor space.
Custom-fit shelves are the best way to make use of every square foot of available storage space without sacrificing design. Consider expanding your shelving up rather than out to maximize the space which will allow you to store everything you need. The bathroom designers at Total Quality Construction are used to working in small spaces and making them luxurious and elegant without the clutter that can happen in a small room.
What to Expect When Remodeling Your Bathroom in Perrysburg, Ohio
When your bathroom remodeling start date is approaching, you may be concerned about what to expect. Will you be able to use the room at all during the process? What do the contractors need from you? How can you prepare for the big day?
Before the crew begins the process, make sure that you have talked with your contractor and are on the same page. Confirm all the lead times, the fixtures that you've chosen, and when each part of the project will take place. Ask your contractor about what steps they will take to protect your home while they are working. Your contractor can tell you exactly when they will need to turn off electricity and water, how they will protect your home from dust and construction debris, and what they will do for clean up at the end of each day. Depending on your project plans, you may have limited use of the space during the remodel, but you may need to plan on not using the room at all. A quality contractor with good communication skills will always keep you updated on what you can expect in terms of displacement.
There are things that you can do as well to make the project go more smoothly. First, make sure the bathroom is emptied of any personal items, but it's also a smart idea to make sure that any path the crew will take from their equipment to your bathroom is clear clutter-free. Your bathroom remodeling crew will be moving things in and out of your home as they take out the old fixtures and bring in the new, and a clear path will help protect both your home as well as the new fixtures you are bringing in. You and your contractor can work together to make the project easier for everyone involved.
The best thing you can do during your bathroom remodeling is expect the room to be out of commission for a short period in exchange for a beautiful finished product. The process may look messy, noisy, or chaotic at times, but trust that your contractor is dedicated to making sure that you are satisfied with the final reveal. You may want to plan on being out of the house during the most disruptive days, and your contractor can let you know what to anticipate. If you ever have questions about what to expect, just ask. This is why choosing a contractor you can trust and communicate well with is so important.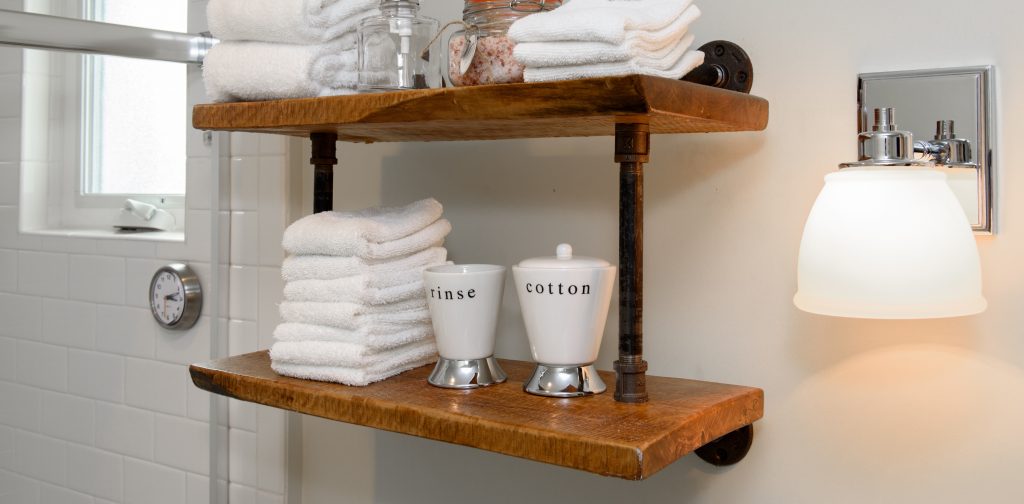 Advantage of Hiring Perrysburg, Ohio Bathroom Remodeling Professionals
A successful bathroom remodeling project can increase the value of your home and create a space that is perfect for you and your family. But to get a successful bathroom remodel in Perrysburg, Ohio, you need to have a professional team working on the job. Bathroom remodeling jobs can be much harder than they look. Whenever you are dealing with electrical and plumbing, the cost of mistakes increases, and that isn't a risk you want to take.
Even if you could manage to do the work yourself without risking costly water damage, can you make it look professional? If you are investing in a remodeled bathroom, you don't want to have a finished product with crooked tile, an uneven toilet, or messy grout. Bathroom remodeling projects require great attention to detail and an investment in taking the time for perfection. This is something you will get when you hire a professional bathroom modeling contractor in Perrysburg, Ohio.
A complete bathroom remodeling project is comprehensive but will make a big difference in your home. When you hire a professional for the project, you can get exactly what you want, done to the highest quality, by a team that is focused on getting you back into your new space quickly. A quality bathroom remodeling contractor will always ensure their work is guaranteed, giving you peace of mind that your space will last. The team at Total Quality Construction is here to ensure you trust in the process and will be happy with your new bathroom. Now is a great time to start if you've been thinking about remodeling your bathroom. Contact Total Quality Construction to learn more about how we can create the bathroom you've always wanted.