Bathroom Remodeling in Bowling Green, Ohio: Enhancing Functionality and Aesthetics
Is your bathroom outdated, cramped, or lacking functionality? Are you dreaming of a beautiful, relaxing space to start and end your day? As a trusted construction company specializing in bathroom remodeling, we understand the motivations behind homeowners' desire to transform their bathrooms.
1. Outdated Fixtures and Design
One of the most common reasons homeowners choose to remodel their bathrooms is outdated fixtures and design. Over time, bathroom fixtures can become worn, inefficient, and aesthetically unappealing. Old, discolored tiles, dated countertops, and faded cabinetry can make your bathroom look tired and uninviting. By remodeling, you have the opportunity to replace outdated fixtures with modern, stylish alternatives that better reflect your personal taste and preferences.
When it comes to fixtures, there are numerous options available to upgrade your bathroom. Sleek, water-efficient faucets not only enhance the visual appeal but can also reduce water consumption. Installing a new bathtub or shower with contemporary designs and features can create a luxurious bathing experience. Upgrading your toilet to a water-saving model not only helps the environment but also lowers your water bills. By selecting fixtures that align with your style and functionality preferences, you can transform your bathroom into a space that combines aesthetics with efficiency.
2. Increasing Functionality and Storage
Another motivation for bathroom remodeling is the desire to enhance functionality and increase storage. Many older bathrooms lack adequate storage space, making it difficult to keep toiletries, towels, and other essentials organized. Countertops may be cluttered, and limited cabinet space can lead to a messy and chaotic environment. Remodeling allows you to incorporate smart storage solutions such as built-in cabinets, shelving, and vanities with ample counter space. By maximizing storage, you can declutter your bathroom and create a more organized, efficient environment.
Consider adding storage options that suit your needs. Customized cabinets can be designed to fit the specific dimensions of your bathroom, providing ample space to store toiletries, towels, cleaning supplies, and other essentials. Open shelves can display decorative items while keeping everyday items within easy reach. Utilizing vertical space with tall cabinets or recessed storage niches can maximize storage capacity without compromising floor space. By optimizing storage, you can create a bathroom that is not only visually appealing but also functional and practical.
3. Improving Energy Efficiency
In today's environmentally conscious world, many homeowners seek to improve the energy efficiency of their homes, and the bathroom is no exception. Outdated fixtures, toilets, and showerheads can be major sources of water waste. By replacing them with water-efficient alternatives, you can significantly reduce your water consumption and lower your utility bills. Bathroom remodeling presents an opportunity to incorporate eco-friendly features such as low-flow toilets, water-saving faucets, and energy-efficient lighting, reducing your carbon footprint and saving you money in the long run.
4. Enhancing Safety and Accessibility
As homeowners age or face mobility challenges, bathroom safety and accessibility become important considerations. Remodeling allows you to incorporate universal design principles to make your bathroom safe and accessible for everyone. Features such as grab bars, non-slip flooring, curbless showers, and wider doorways can be installed to promote safety and ease of use. By remodeling your bathroom with accessibility in mind, you can ensure that it remains a functional and comfortable space for years to come.
For individuals with mobility challenges or aging in place considerations, there are several modifications that can be made to enhance bathroom safety. Installing grab bars near the toilet and in the shower or bathtub area provides stability and support. Non-slip flooring options, such as textured tiles or slip-resistant vinyl reduce the risk of accidents due to wet surfaces. Curbless showers eliminate trip hazards and facilitate wheelchair access. Wider doorways accommodate mobility aids and make maneuvering around easier. By incorporating these accessibility features, you can create a bathroom that is safe, convenient, and accessible for everyone now and in the future.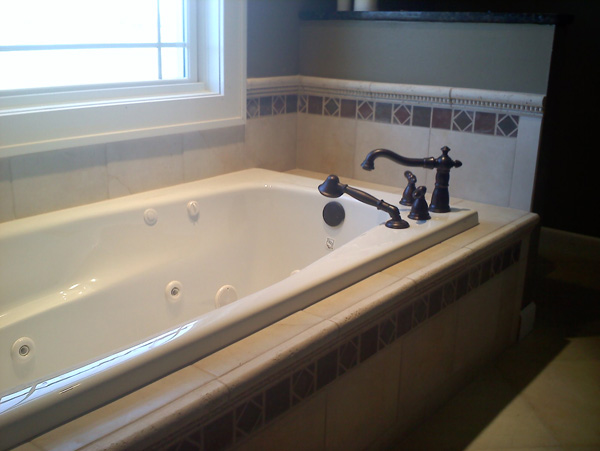 5. Increasing Home Value
Bathroom remodeling is not only about personal enjoyment; it can also be a strategic investment in your home. Well-designed and updated bathrooms are highly sought after by homebuyers. By remodeling your bathroom, you can significantly increase the value of your property. Potential buyers are often willing to pay a premium for modern, stylish bathrooms with high-quality fixtures and finishes. Whether you plan to sell your home in the near future or simply want to increase its value, bathroom remodeling is always a smart choice.
To maximize the return on your investment, focus on creating a bathroom that appeals to a wide range of potential buyers. Neutral color schemes and timeless design elements tend to have broader appeal. Opt for durable and high-quality materials that withstand the test of time. Pay attention to details such as lighting fixtures, mirrors, and hardware, as these can elevate the overall aesthetics of your new space. By creating a bathroom that combines functionality, aesthetics, and universal appeal, you can increase the desirability and value of your home considerably.
Trust Total Quality Construction in Bowling Green, Ohio for Your Bathroom Remodeling Needs
Total Quality Construction is your trusted partner for bathroom remodeling in Bowling Green, Ohio. Our expertise, attention to detail, and commitment to excellence ensure that your bathroom remodeling experience is seamless and satisfying. Our team of skilled professionals will work closely with you to understand your vision, provide expert recommendations, and bring your dream bathroom to life.
From updating fixtures and finishes to creating a spa-like oasis, we have the knowledge and resources to transform your bathroom into a functional, beautiful space. With access to top-quality materials and a focus on high standards and skilled craftsmanship, Total Quality Construction delivers exceptional results that will meet and maybe even exceed your expectations.
Don't wait any longer to transform your outdated bathroom into a modern, functional retreat. Contact Total Quality Construction today to learn more about how we can help you turn your outdated bathroom into a rejuvenating oasis. We take pride in having helped homeowners in Bowling Green, Ohio see the true potential of their bathrooms, and we look forward to helping you, too!