Bathroom Remodeling Contractor in Toledo, Ohio
Are you tired of your outdated bathroom? Looking for a way to enhance your bathroom space's functionality and aesthetic appeal? Total Quality Construction is your local trusted partner for bathroom remodeling in Toledo, Ohio. With years of experience and a commitment to excellence, we are the go-to construction company for all your bathroom remodeling needs. This comprehensive guide will walk you through how we can transform your bathroom into a stunning and functional space you'll be excited to show off. We have you covered from the initial consultation to the final finishing touches.
Why Choose Total Quality Construction for Bathroom Remodeling in Toledo, Ohio?
When vetting potential construction companies to hire for your bathroom remodeling project, you want a team of professionals who can bring your vision to life. Total Quality Construction is the ideal choice for homeowners in the Glass City. Here's why:
1. Expertise and Experience
Total Quality Construction has a team of skilled professionals with extensive knowledge and expertise in bathroom remodeling. With years of experience, we have completed numerous projects in Toledo and Northwest Ohio, ranging from affordable bathroom updates to full-scale comprehensive bathroom remodeling jobs. Our team stays updated with the latest industry trends and techniques to ensure we deliver exceptional craftsmanship with attention to detail.
2. Quality Bathroom Materials and Workmanship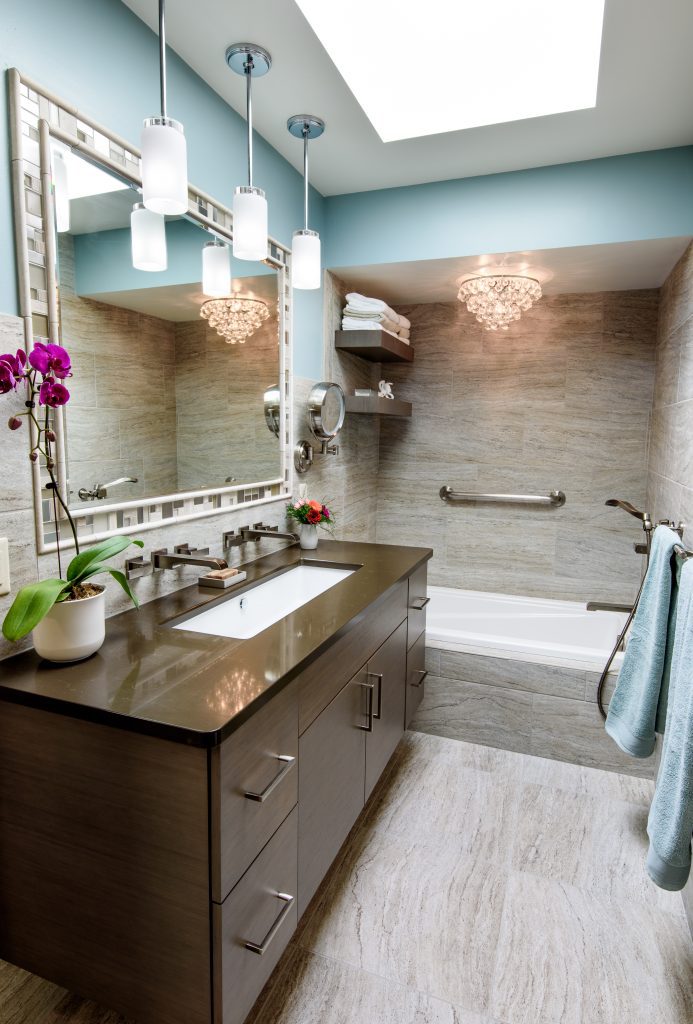 We use only the highest quality materials for our bathroom remodels. We partner with reputable suppliers who provide us with durable and stylish options to suit your preferences and budget. From tiles to fixtures, countertops to cabinets, we ensure that every component of your new bathroom meets the highest quality standards. Our skilled craftsmen meticulously install each element, ensuring precise and flawless workmanship that you can count on.
3. Personalized Designs Tailored to Your Style and Needs
We understand that every homeowner has unique tastes and requirements regarding bathroom remodeling. That's why our talented project managers will work closely with you to create a customized bathroom design that reflects your style and meets your family's functional needs. Whether you prefer a modern, sleek look or a classic and timeless design, we can translate your ideas into a stunning reality. We consider even the most minor details to ensure your new bathroom meets your expectations.
4. Timely Completion and Professional Project Management For Bathroom Remodeling Projects
We understand the importance of completing your bathroom remodeling project on time. At Total Quality Construction, we value your time and strive to complete every project within the agreed-upon timeframe. Our efficient workflow and project management skills ensure your bathroom remodel stays on schedule. We provide you with a clear timeline from the beginning, and our team works diligently to meet all milestones along the way.
The Bathroom Remodeling Process: From Consultation to Handover
Bathroom remodeling can seem like an overwhelming and never-ending list of tasks, but with Total Quality Construction by your side, it becomes a seamless and enjoyable experience. Here's an in-depth look at our bathroom remodeling process:
1. Consultation and Planning
We start by scheduling an initial consultation with our bathroom remodeling designers to discuss your vision, budget, and requirements for your bathroom remodel. During this phase, we encourage you to share your ideas, inspirations, and any specific challenges you may face with your current bathroom. Our team will assess your space, taking measurements and identifying potential opportunities for improvement. We can then provide expert recommendations tailored to your needs, including design suggestions, material options, and cost estimates. This collaborative planning stage lays the foundation for a successful remodeling project.
2. Design and Selection
Once we understand your preferences and requirements, our talented team can create a detailed plan for your new bathroom. We will incorporate your ideas, blending aesthetics and functionality to produce a design that suits your style. This lets you make informed decisions and visualize the final outcome before construction begins. Additionally, we will guide you through the selection process, assisting you in choosing the suitable materials, fixtures, finishes, and accessories to bring your ideas to life for your new bathroom.

3. Preparation and Demolition
Before remodeling, we take the necessary steps to prepare the site and protect your home. Our bathroom remodeling team will ensure that your property remains clean and free from any potential damage during construction. We will carefully remove any existing fixtures or structures that need to be replaced, disposing of them responsibly. This phase is essential as it sets the stage for the transformative changes that are about to take place.
4. Construction and Installation
The construction and installation phase is where your bathroom remodel takes shape. Our team of skilled craftsmen in Toledo, Ohio will execute the plan meticulously, focusing on every detail to deliver outstanding results. This includes plumbing work, electrical installations, tiling, cabinetry, flooring, and other tasks. Our professionals adhere to industry best practices and building codes, ensuring the highest safety and quality. Throughout the construction process, we maintain clear communication with you, providing regular updates on the progress of your project.
5. Finishing Touches
We focus on the finishing touches once the major construction work is complete. This is where your bathroom truly comes to life and reflects your personal style. Our team will add the final layers of paint, install lighting fixtures, fit accessories and hardware, and complete any remaining details. We pay meticulous attention to these finishing touches to create a visually stunning, cohesive space. By harmonizing the elements, we ensure that your new bathroom feels like a seamless and integrated part of your home.
6. Final Inspection
Our team conducts a thorough inspection before we officially hand over your beautifully remodeled bathroom. We check every aspect of the project, ensuring that all work has been completed to our high standards. We pay close attention to functionality, aesthetics, and quality to guarantee your satisfaction. Once the final inspection is complete, we invite you to assess the results and provide feedback. Your satisfaction is our priority, and we will address any concerns or make any necessary adjustments to ensure your new bathroom is exactly what you hoped it would be.
Benefits of Bathroom Remodeling
Investing in a bathroom remodel can bring numerous benefits to both your home and your lifestyle. Here are some key advantages:
1. Enhanced Functionality
A bathroom remodel provides an opportunity to optimize your space and improve functionality. You can address any existing layout or storage challenges and create a bathroom that caters to your family's specific needs. Whether it's adding extra storage cabinets, installing a larger shower, or incorporating smart features, a well-designed bathroom remodel enhances convenience and efficiency in your daily routine.
2. Increased Home Value
Bathroom remodeling is one of the most cost-effective ways to increase the value of your home. A beautifully remodeled bathroom improves your quality of life and attracts potential buyers if you decide to sell. However, it also increases your satisfaction in your home. You'll learn to love your home again with a newly remodeled bathroom.
3. Energy Efficiency
Upgrading your bathroom fixtures and appliances to energy-efficient options can positively impact both the environment and your utility bills. Installing low-flow toilets, water-saving showerheads, and energy-efficient lighting fixtures can significantly reduce your water and energy consumption. These eco-friendly choices save you money in the long run and contribute to a sustainable and greener lifestyle.
4. Improved Aesthetics and Comfort
Your bathroom should be a sanctuary where you can relax and rejuvenate. A remodeled bathroom allows you to create a space that reflects your style and provides a soothing ambiance. You can choose from a wide range of design options, such as contemporary, traditional, minimalist, or luxurious, to transform your bathroom into your own personal oasis. By updating finishes, fixtures, and lighting, you can elevate your bathroom's overall aesthetics and comfort, making it a space you truly enjoy spending time in.
Start Planning Your New Bathroom Today
A beautifully remodeled bathroom enhances your everyday life and adds value to your home. With our team of experts, your outdated bathroom will be transformed into a stunning and functional oasis. Our commitment to excellence, attention to detail, and personalized approach make us the ideal choice for your next remodeling project.
We've helped many homeowners in Toledo, Ohio create a bathroom they are proud to show off, and we can help you too! Take the first step towards creating the bathroom of your dreams with Total Quality Construction. Contact us today to get started.