What to Look For When Hiring the Right Bathroom Remodeling Contractor
Wednesday, October 11, 2023
Deciding on a bathroom remodeling project is the first step toward a great investment in your home, but finding the right professional to take on the work can be daunting. Even though it's a physically small space, bathrooms need professionals for remodeling, and finding the right contractor to handle the electrical, plumbing, flooring, and installation work can be overwhelming. When you are ready to begin your bathroom remodeling project, it's worth it to take your time and hire the right contractor.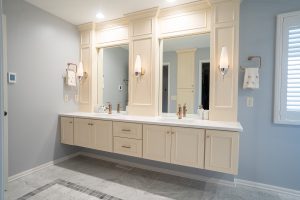 Understanding Your Bathroom Remodeling Needs
Whoever you hire for your bathroom remodeling project will need to understand your needs. Before you can communicate those needs, you need to make sure you have a clear picture of what you want. Going into a bathroom remodeling project can be overwhelming. Before you begin the search for a contractor, think about what your goals are. Write down the design features you want, the budget you want to stay within, the ideal timeline for your project, and the elements you want to include. If you are simply looking to update the existing bathroom with new fixtures, flooring, and lighting, the job can be simple and straightforward. If you are looking to make major changes to the layout of the room, such as moving plumbing or expanding the space by removing or reconfiguring walls, your contractor will need to know this from the start. Most bathroom contractors can handle a remodeling project of any size, but understanding your needs right from the beginning can make the relationship with your contractor much more successful.
The Importance of Researching Potential Contractors
If you simply search for "bathroom remodeling in my area", you will likely be inundated with options, all claiming to be the best. If you are just going in blind, it can be hard to weed out the right option for your particular project. If you want to find the best bathroom remodeling contractor in your area, begin by talking to local family, friends, and neighbors who have recently done a remodeling project. Local online groups can be a great place to begin your search for recommendations as well. Talk to those who give you the recommendations and ask them focused questions.
Did the project come in on time and within budget?
How did the contractor handle things that came up during the remodeling process?
Were the contractors professional in the home and did they take steps to minimize disruption?
Was the contractor available for conversations?
Did they feel like they could communicate with the contractor effectively?
Were they happy with the final results?
After you get some recommendations, look for reviews from recent clients. Take the time to look at the contractors you are considering and see what people are saying about their experience.
Checking Licenses, Certifications, and Insurance
When you get estimates, make sure that any contractor you are considering has all their paperwork in order. Quality contractors will make sure that this information is readily available for their potential clients. You want to make sure that your contractor has a valid contractor license, a certificate of insurance, and any necessary certifications for work that you need done. Knowing that your contractor has the right paperwork in order will protect both of you. No matter how strongly a friend may recommend their friend who does work for friends on the side and maybe doesn't have all the "official stuff" but can get you a great deal, it's not worth it. To protect yourself and your home you want an experienced remodeling contractor with the right credentials.
Comparing Quotes and Estimates
The general rule of thumb is to choose three contractors who came out on top after gathering recommendations and doing the initial research, and have them visit you and the space to get an estimate. During the process of the estimate, your contractor should get an idea of your budget, the work you want done, including the plan for the design, fixture types you want, and everything you want to be included in the remodel. If you have any restrictions to your timing, this is the time to make those known. Be prepared to have a full discussion and answer questions about materials, design, and budget. Contractors can then prepare and deliver you a quote, in writing, that includes all the details discussed, with a total project price, payment schedule, scope of work, schedule of tasks, change order clause, plan for permits and disposal, and guarantees and warranties for the work being done. Price alone is not the best way to determine the right contractor. When you compare quotes and estimates, look at the full scope of the estimate, as well as how the meeting with the contractor went overall during their site visit.
Establishing Clear Communication Channels
Communication is vital when you are hiring a contractor to remodel your bathroom.
Who will be your point of contact for questions or concerns?
How do they prefer to be contacted during the project?
Will the contractor be at the site every day?
Your contractor will also want to know who their primary contact will be. Before you sign the paperwork, make sure everyone is on the same page about communication channels so there is no confusion during the project.
Finalizing the Contract: Terms, Payments and Guarantees
If there are any negotiations you want to discuss, this needs to be done before you sign the contract for the work. If you have specifications, such as work hours, payment schedules, notice about disruptions to services in your home, such as power and water, or resolution steps for potential problems, you want to discuss those in advance. Your final contract will include all of the terms, payment schedule, and guarantees, and signing the contract protects both you and the contractor, so it's important to feel confident. If you have any concerns, bring them up before you sign the contract. A quality bathroom contractor will be professional and will not rush you through the process.
If you are ready to hire a contractor for your bathroom remodeling project, take the time and do your due diligence before you sign on the dotted line. Make a plan, research your contractor, ask the right questions, negotiate a contract you think is fair, and your bathroom remodeling project will be a success. We know it can feel overwhelming to begin planning a bathroom remodel, and we've been working hard for homeowners in this community by successfully transforming their bathrooms into spaces they are proud to show off. We can help you, too. Contact Total Quality Construction to learn more.