Beyond Aesthetics: Discovering the Hidden Benefits of Kitchen Remodeling in Perrysburg, Ohio
The kitchen is the most important room in your home. Whether you are planning to stay in your home long term or are hoping to increase your resale value, a kitchen remodeling project can take your home to the next level. The best kitchen remodeling project is one that will balance functionality with style, allowing you to create a space that can look clean, organized, and clutter-free. A kitchen remodeling project is not one that you can take on by yourself, so when the time is right, Total Quality Construction in Perrysburg, Ohio can make your kitchen the ideal space for you and your family.
Classic Choices to Consider When Remodeling Your Kitchen
While trendy choices can be tempting when remodeling your kitchen, you are taking a risk that "trendy" will become "dated" within a few years. Every decade has a distinct style that can date your home, and the last thing you want to do is invest in a kitchen remodeling project only to find that the trends have changed. However, there are some choices you can make when remodeling your kitchen that will never go out of style.
Although it may not be exciting, neutral colors simply never go out of style. It's a marketable color palette because it lets you keep a clean and classic "base" and add your personality or a nod to a trend with pops of colors or accent pieces. Lighter neutrals reflect light, making even small kitchens feel large, and because it doesn't hide dirt, you will always know if your kitchen is up to your cleanliness standards. Neutrals can also be a good choice for the budget-conscious remodeler.  
There was a period when many homeowners chose not to install hardwood flooring in their kitchens. Since kitchens are well used, some homeowners who consider wood flooring worry about potential water damage, staining, or worn areas due to high traffic, but wood is a very durable choice. Hardwood is eco-friendly and can stand up to even the highest traffic with the right maintenance. If your home has an open floor plan, incorporating hardwood into the kitchen can help the overall flow of your design.
Your kitchen has a lot of elements that need to work together, and you don't want any one area to overpower the others. Elaborate cabinets can overwhelm a kitchen, especially one with a smaller footprint. Shaker cabinets have simple, clean lines, a beautiful combination of traditional and contemporary styles. 
The backsplash intends to guard against moisture and splatter, so choosing a backsplash that is easy to clean, durable, and can blend with any look is key. Subway tiles can be installed in any color, so you can stay classic and choose a neutral that will blend with any look, or you can take the opportunity to incorporate a pop of color.
Marble can get mixed reviews, especially with granite and quartz countertops becoming more popular. But marble, particularly Carrara marble, is a timeless classic. The whiteness can't be found in other natural stones, the lacy graining works in any kitchen, it will last for generations, and it's readily available. While marble can be prone to staining, with the right sealing and care, your marble will stand the test of time.
Innovative Solutions for Clutter-Free Kitchens
No one likes clutter. If you have a cluttered kitchen, no matter what upgrades you make, your kitchen will still feel messy, disorganized, and maybe even claustrophobic. Many homeowners struggle to get a handle on their kitchen clutter. With the number of kitchen tools and small appliances we have to make our meal preparation easier, we have more things than ever before to find a place for. A kitchen remodel is the perfect time to incorporate storage solutions to help keep your new kitchen tidy and neat.
The number one way to keep your kitchen clutter free is to get the majority of appliances off your counter. In reality, only what you use every single day deserves a permanent place on the counter. For most of us, that's a hard rule to follow. If we don't store appliances on the counter, but we still need to use them throughout the week, where do they go? When planning your kitchen remodeling project, talk to your contractor about options for storage solutions. A pantry with a shelf for small appliances or a kitchen island with storage underneath are both great places for all the things to hide that are usually on your counter.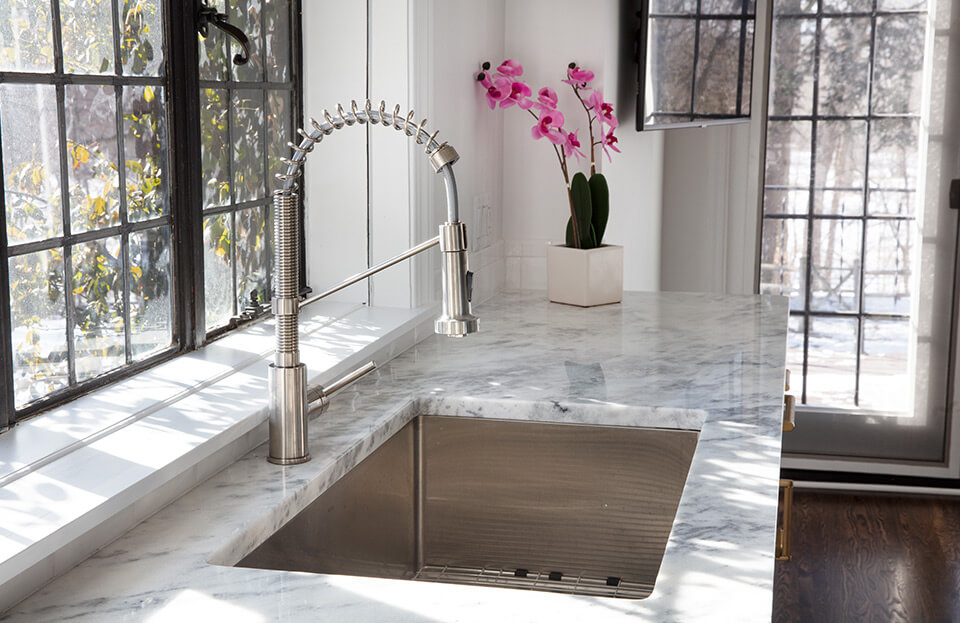 Sinks are another area that tend to clutter up quickly, and sometimes this is simply a matter of good sink design. If you have a small sink that can't fit the dishes that need to be washed or requires a drying rack that will eat up counter space, your kitchen will look busy. Talk to your contractor about installing a sink that will allow you to get your dishes washed and out of sight quickly. 
Finding storage solutions for all your kitchen necessities is the best way to keep your kitchen clutter free. This can mean talking to your kitchen contractor about the best design for your cabinets. With the right combination of pull-outs, drawers, and adjustable shelving, you can have a place for everything you use.
Choosing the Right Contractor for Your Perrysburg, Ohio Kitchen Remodeling Project
Undertaking a kitchen remodel is no small endeavor – it's a significant project involving many choices. With the weight of these decisions and the importance of each one, finding a skilled team to oversee and execute every aspect of the design and installation is so important. 
Navigating the intricacies of a kitchen remodeling project requires a blend of experience, creativity, and attention to detail. Total Quality Construction brings all of this and more. Our dedicated team of kitchen remodeling experts in Perrysburg, Ohio is poised to guide you through the entire process, from the initial concept to the final touches. We understand your project's significance and your dreams for your new kitchen. We're not just contractors but partners dedicated to making your remodeling experience as smooth and rewarding as possible. Your satisfaction is our ultimate goal, and we're excited to be part of creating the perfect kitchen for your family that you'll cherish for years to come. Contact us to learn more about how to get started today!