Elevate Your Lifestyle: The Latest Trends in Home Remodeling
Wednesday, November 8, 2023
With housing inventory still lean, many homeowners who were looking to move are now looking to remodel their current spaces. Instead of feeling stuck in your home, you can look at this as an opportunity to create exactly the home you want and need. Home remodeling projects as a whole are continuing to trend, with much of the attention on creating efficient storage, installing low maintenance but high quality materials, and developing energy efficient homes that will reduce energy consumption and cost. While many remodeling projects never go out of style, there are some current trends that are definitely worth considering.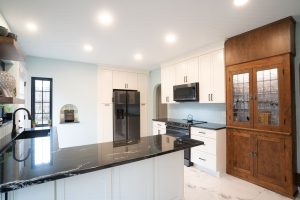 Home Offices are in Demand
Although some businesses have brought employees back to the office, remote work is continuing to increase in popularity, making the need for a dedicated home office one that many homeowners are prioritizing. While a home office is not only useful for you in the present, having a dedicated home office space can make your home much more marketable should you decide to sell down the road. The most desirable home offices are ones that make excellent use of storage space and have the connectability necessary for today's remote worker. While open spaces are still desired in the main living area, having a home office with a door in an area of the house that can be relatively undisturbed is key for the best working situation.
Make Your Home More Functional with a Convertible Space
Making the best use of the space you have is important to many homeowners. One of the older ideas in home remodeling was a room for every need – even if that need was only a need on occasion. Formal living rooms that function more as museums, guest rooms that only welcome visitors once or twice a year, or formal dining rooms that only open for holiday meals are not an efficient use of space today. A new trend is to create a "convertible" space that can change with your needs. Stylish foldaway walls, which can be glass panels, accordions, or walls on wheels can partition off a room to be used as a craft room, home office, or study, but can be opened for better flow when entertaining. Instead of a dedicated guest room, many homeowners are creating a space that suits their daily purposes, such as a home office or playroom, and adding a pull down Murphy bed to allow the room to become a guest room when necessary.
Built-In Storage Spaces are a Must
Having a clean, streamlined, minimalist space makes your home feel calm and peaceful. Looking at design websites, it's easy to lust after the minimalist look. But whether or not we like the look of minimalism, the fact is that most homeowners still have a lot of "stuff" that needs to go somewhere. No matter how much you declutter, there is plenty that we still need to put away somewhere. Built-in storage has become the prime solution for a streamlined space that still holds everything we have. Built in storage can create a place for everything while hiding the clutter.
Create a Space You Can Easily Keep Up With
Design photographs may paint a pretty picture, but keeping up with the maintenance of certain materials can be a full-time job. When you begin planning a remodeling project, talk to your contractor about using materials that require less maintenance. Finding countertops that don't require specialized care of bi-yearly sealing, floors that can be easily swept and mopped, and fixtures that can hold up to the high use of a family are essential. There are many options that have the look of a high-end style, but the ease of low-maintenance.
Energy Efficiency is Key
The desire to lower energy consumption and decrease one's carbon footprint is important to many homeowners. We have more electronics than ever, but we are also more in tune with how our behavior impacts the greater good of the planet. Many home remodels can increase energy efficiency and make a home more "green". Increased natural light will reduce the need for excess lighting, energy efficient appliances can cut down on energy use, and installing new windows and doors can help insulate your home and save money on heating and cooling costs. Using natural materials, rather than synthetic, is also a good way to make your home more environmentally friendly.
A Laundry Room is On Every Homeowner's Wish List
Laundry isn't anyone's favorite chore, but a dedicated laundry space can make it far more enjoyable. If your laundry is still in the basement, it can be worth the investment to plan a remodeling project that brings everything to the main floor. Your home remodeling contractor can help you find an existing space to be converted or a place to create a space. Often, if you have a downstairs bathroom, you already have a space that will be easy to hook up to plumbing. Many homeowners combine the laundry room with a mudroom that provides a good place for storage and function.
Today's trends in home remodeling are all about making the best use of your space. Rather than always looking to expand, home remodeling contractors can increase functionality in the space that you already have. No matter what your needs, Total Quality Construction can help you turn your home into so much more.