Home Renovations for Long-Term Comfort and Convenience
Aging in place has become a hot topic for those who have reached or are approaching retirement age. Many senior communities looking to woo residents who are in their younger retirement years are singing the praises of their community's commitment to "aging in place" – once you move in, you never need to move again, even as your needs change. However, you don't need to move to a specific community designed for seniors to get the benefits of aging in place. With some home remodeling planning with your long-term needs in mind, you can stay in your current home where you feel most comfortable.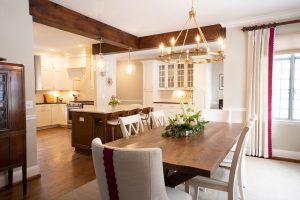 What Does it Mean to "Age in Place"?
In previous generations, when aging impacted a senior's mobility, vision, or ability to care for their own home, they would transition out of their own home and into a place where they could get the assistance they need, whether that be a retirement community, an assisted living facility, a skilled nursing facility, or with family. As the current generation retires, the majority have a strong preference to stay in their own home through the end of their lives. Choosing to spend your senior years in your own home is referred to as aging in place.
Although there are many wonderful things about senior communities, there are definite benefits to staying in your current home. Homeowners have often put years into the upkeep of their residence, feel comfortable with the familiarity of the space, and have strong sentimental ties to the homes where they raised their families. Instead of the major life change of downsizing, packing and selling the current home, and moving to an unfamiliar space, they can feel secure in their home, even as their needs change. Moving can be stressful, and can cause many seniors to require even more care, especially in the initial time period after a move. Staying in your current home eliminates that disturbance to the status quo. In addition, you will enjoy an increased home value, enhanced safety, and improved accessibility for both you and your visitors.
Planning for Home Remodeling that Will Allow You to Age in Place
If aging in place in your current home is one of your long-term goals, there is some planning to do now. The ultimate goal of home remodeling for long-term comfort are things that will make your home more accessible as well as easy to maintain. An experienced home remodeling contractor can help you look at the layout, accessibility, and maintenance requirements of your current home and help you develop a plan that will allow you to age in place comfortably.
Key Home remodels for Long-Term Comfort and Convenience
Lighting, flooring, exterior renovations, and simple accessibility changes are all part of the home renovations you can make for long-term comfort and convenience. However, some spaces will need extra attention.
The bathroom is one of the key spaces for safe senior living. As mobility decreases, many seniors have difficulty navigating tub walls, easily using a standard height toilet, and maintaining their balance on a slippery surface. If you want to stay in your home long-term, the bathroom is one of the first rooms to address. Most home remodeling contractors suggest starting with converting the bathtub into a curbless walk-in shower with a fold down or permanent shower seat installed. Adding bracing and grab bars to this unit will make it easier to use independently for longer, even as mobility slows. Shower controls can be installed for easy access, and a handheld or adjustable shower head can make independent bathing less of a chore. Lighting in the bathroom can be increased, including in the shower stall. Outside of the shower, replacing the standard toilet with a comfort-height seat will make getting up and down independently much smoother. Looking at low slip floor options, such as natural stone, bamboo, textured tile, or cork can make the bathroom safer.
When remodeling your kitchen, the prime focus will be on accessibility. If your microwave is currently above the stove, that will likely be difficult to use as you age and can be moved to counter height level. Pull-out and adjustable shelves in cabinets can provide easier access, and replacing some lower cabinets with drawers or Lazy Susans can make it easier to find what you need. Handles instead of knobs can make gripping cabinets easier, even after loss of mobility. As in the bathroom, increasing the lighting is a good idea.
One of the main reasons some seniors need to leave their homes is that they require a walker or wheelchair that isn't able to fit through the current doorways and halls. Talk to your remodeling contractor about the width of your doorways and walls and make sure that all doorways and halls have a width of at least 36". To install a stair lift, should one be needed in the future, the stairway must be at least 48" wide.
If you envision spending your retirement years living in and enjoying your home, the importance of working with professionals and developing a plan for long-term home remodeling cannot be understated. And you don't have to wait until you're older to begin remodeling your home for future functionality. Contact Total Quality Construction to get our experienced advice on a plan for your home that will allow you to age in place in comfort.