Mastering Home Renovation: Overcoming Four Common Obstacles
Overcoming Four Common Obstacles
As a homeowner, remodeling your home can be an exciting project. But, any project comes with the risk of delays. To prepare yourself for the potential, the five most common challenges homeowners face during a whole house remodel are below.
1. Underestimating The Budget
Every good project comes with a budget estimate, which is an attempt to control costs. Because contractors want your business, they will feel pressured to provide the cheapest rate (while also making money). Inevitably, the price won't be completely accurate, often ending up more than estimated.
How can a homeowner ensure that their remodeling project stays within budget?
Here are some tips to get a better handle on your remodeling costs:
Budget an additional 20% over the estimated cost
Be prepared for some compromises (like design changes)
Ask the contractor for a breakdown of the exact prices they use
Have a clear and open line of communication
Combine multiple projects into one
Plan every detail of what you need to do (and know your contractor's plan)
Do some of it yourself (if you've got the skills)
Be aware of all aspects of your home (have blueprints available if possible)
It's nearly impossible to be 100% accurate. But the more time you take to consider these tips, the more you can save.
2. Miscommunications Between You and the Contractor
With any residential construction project, miscommunications can happen. The contractor could've misheard you or made assumptions. Given how expensive house remodeling projects can be, it's vital to maintain good communication.
What are some tips for communication and collaboration with the remodeling team to ensure a successful project outcome?
Here are some tips you can use to avoid miscommunications:
Identify your point of contact (which is especially important when working with teams of contractors)
Test their communication skills and understanding during the first conversation (before you hire them)
Don't be afraid to ask people to repeat themselves (especially with important points)
Ask your contractors how they like to be communicated with (text, phone call, Facebook messenger, etc.)
Avoid getting too complicated and try to keep your conversations brief (your contractor doesn't have the mental bandwidth, especially if they are working on many projects at once)
Clarify and confirm all of the project details in writing (including timelines, payment schedules, and budget details)
Use multiple communication methods if you have vital information to send

3. Backordered Tools or Materials
One thing that halts parts of the remodeling process is waiting for tools or materials. Typically, this won't stop things completely if contractors can work on other areas. Material shortages, like with lumber, are more likely to cause this issue, as most tools can be retrieved (or rented) from nearby stores in many cases. Try to be flexible with the material to avoid delays related to backordered materials (if you can). Contractors know design, so they can find something as sturdy and beautiful as the original material.
4. Vanishing Subcontractors
A contractor can't do all of the work themselves! This is why subcontractors exist, to help fill in the skill gaps where contractors need support. But, some subcontractors (just like contractors) might not show up, causing snags in the project. To avoid delays from the subcontractor not showing up, discuss if your contractor has a backup option if the subcontractor isn't available.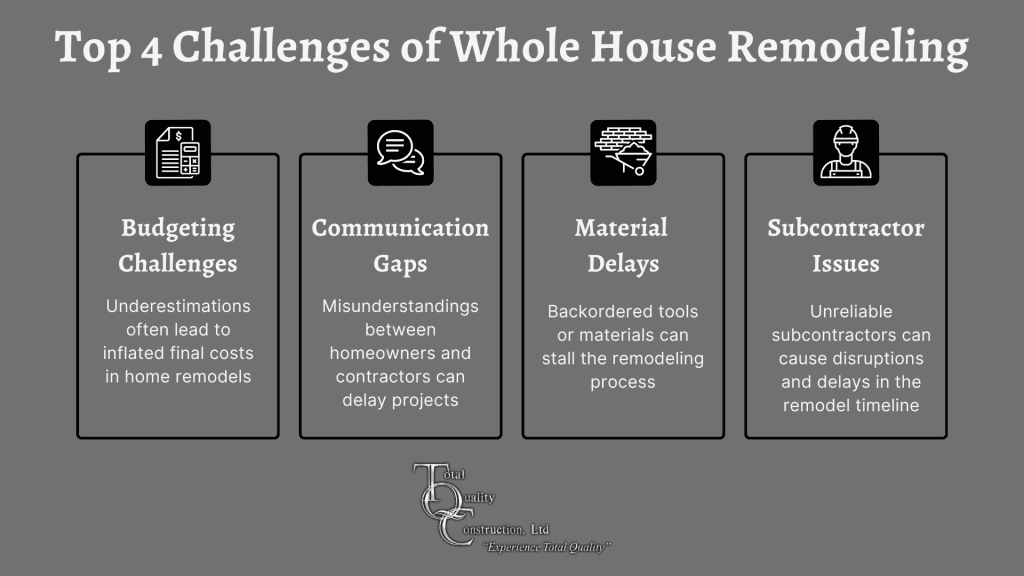 Addressing Potential Challenges During a Home Remodel
Many other issues can lead to delays in a whole house remodel. Here are some additional potential problems:
Water damage – leaks throughout the home can cause hidden water damage areas. These issues will likely be exposed through renovations, causing everything from mold to rotten wood.
Plumbing issues – A broken pipe leads to water damage (see above). Pipes can leak for years without detection in some cases.
Dangerous materials (in older homes) – Older homes rely on materials like asbestos (and other unsafe building practices) that must be addressed to ensure your safety.
Foundation cracks – Cracks in the walls or floors can crumble over time. Sometimes, this comes from the cement crumbling in old homes, which can be expensive.
Electrical problems – Old electrical wiring isn't built to handle some modern tech and (in some cases) can be incredibly unsafe.
Bad renovations (from former contractors) – Other contractors can get lazy, leading to shoddy work. Over generations, this work can be "painted over" and forgotten, leading to more problems.
The extra 20% added to your budget will handle most of these issues. Expensive fixes, like foundational cracks, might delay renovations further.

Maintaining Livability During a Comprehensive Home Renovation
Because most families can't afford a hotel or go elsewhere during a remodel, they need to live with the construction. Here are some tips to help you survive the renovation process:
Set up a "temp space" for your old room (like having a skillet on the back porch or microwave in the living room during a kitchen remodel).
Make this an excuse to leave home and spend more time outside (to avoid the noise).
Stay mentally strong by noting significant milestones and getting excited about the upcoming project completion date.
Ask about your contractor's cleaning and containment procedures (ideally, they should have HEPA vacuums, air filters, and protective equipment to protect other rooms).
Prioritize the safety of your vulnerable family members (kids and pets).
If you only have one bathroom (or limited bathrooms), talk to your contractors about planned shower times.
Wrap up
A home remodel can be an exciting time in a family's life. But living with that remodel for several months, especially if delays occur, can be frustrating. To avoid these frustrations, follow the tips throughout this article.
Contact our team at TQC to meet with a contractor willing to work with you. If you want your next remodeling project to work for you, our team can help!