Selecting the Right Bathroom Flooring
There are many aspects that go into a bathroom remodeling project. You need to select fixtures, lighting, and storage solutions that are both aesthetically pleasing and functional for your family. One of the more difficult choices you will make during a bathroom remodel is what kind of flooring you want to have installed. It seems like a straightforward choice, but with everything you have to consider, what is the best option for your family?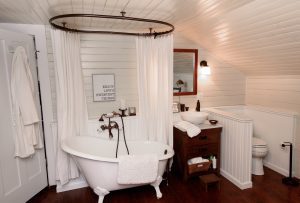 Choosing the Right Flooring for Your New Bathroom
Bathrooms are high traffic spaces that will always need to stand up to water exposure and high humidity. You want your bathroom to look good, but the floor needs to be safe and slip resistant and able to stand up to heavy use and frequent cleaning.
You need to select a flooring material that can withstand moisture, frequent cleaning, and high traffic. The best bathroom flooring options are those designed for durability.
This seems like a given, but make sure you choose a flooring option specifically designed to resist water damage. While there are flooring materials that are aesthetically beautiful, bathroom floors need to be able to handle water without worry.
Safety is always a concern in the bathroom. Prioritize flooring materials with textured surface or non-slip properties to enhance safety in this wet environment.
Some flooring options require very little maintenance while others require much more to keep them looking and functioning their best. Before you settle on a material, consider the ease of cleaning and maintenance for the flooring materials you are considering.
Remodeling your bathroom is a significant investment. You want to like the way your bathroom looks in the end. When considering your choices, select flooring options that complement the overall design and desired aesthetics of your new bathroom.
A bathroom remodeling project can get expensive quickly, depending on your choices. Look at the number you've set and consider the cost of materials and installation to make sure you're working within your budget.
A bathroom remodel can be a great time to make the floor more comfortable. If you want to make the investment, assess the level of comfort provided by different flooring materials, such as heating or extra cushioning in the subfloor.
Some floors can be installed easily, but some take much more time and require a very skilled installer. Before you settle on your choice, consider the complexity of the installation, how long it will take, and how the extra labor might affect your budget.
Serious Budget Friendly Choices
Basic vinyl flooring is budget friendly, water resistant, easy to maintain, and quick to install. It's available in many styles to fit nearly any design choice, and can be installed in sheets or tiles. Linoleum flooring has similar benefits, and although it has been considered a dated flooring style, the current designs can take this material and make it look high end. If you are looking to keep your expenses and maintenance low, these options are contenders. However, they do come with drawbacks. While these options are initially budget friendly, they do have a shorter lifespan, and will need to be replaced sooner than some other options.
Porcelain and Ceramic Tile are Timeless
Ceramic and porcelain tiles are usually considered an expensive flooring choice. However, in a small bathroom, the cost is easier to absorb. Mass produced tiles are quite affordable for most remodeling projects, but if you are interested in custom tiles, they can get very expensive. In addition, the installation of tile is a very specialized skill that requires a very skilled worker. Although tile looks beautiful immediately after installation, there is a possibility that the tile can crack with heavy use, and will require cleaning and maintenance to keep the surface looking its best.
Is Hardwood Flooring a Possibility in the Bathroom?
Many homeowners have discovered that hardwood flooring is possible in the kitchen, and want to pull their entire home together with hardwood in the bathrooms as well. If you use engineered hardwood, this is actually a good option. Engineered hardwood can hold up to high humidity and moisture and can be installed as a floating floor over the existing floor. However, engineered hardwood can be even more expensive than traditional hardwood, and is water resistant, not waterproof. You will need to make sure the floors are regularly sealed to prevent permanent damage from spills and humidity.
Luxury Vinyl and Plank Flooring for a High End Look
Luxury vinyl is a big step up from standard vinyl. This vinyl usually comes in planks that will lock together. If you attempt to install this flooring on your own, the seams can be a concern, but with professional installation, the flooring is water resistant and very durable. Luxury vinyl is available in many different designs that can mimic natural stone, hardwood, or ceramic, but have none of the maintenance concerns. Although more expensive than standard vinyl, luxury vinyl is still an affordable choice that can provide a very high end look with low ongoing maintenance requirements.
By carefully considering your needs, style preferences, and budget, you can craft a bathroom that resonates with your personality while accommodating your practical requirements.
Remember, a successful bathroom remodel involves meticulous planning, thoughtful design choices, and skilled installation of high quality materials. Whether you're aiming for a contemporary oasis, a vintage retreat, or a sleek modern haven, the key lies in blending form and function seamlessly.
As you venture into this transformative process, keep in mind that every detail matters, from the tiles and fixtures to the color palette and lighting. Don't hesitate to seek inspiration from various sources, such as design magazines and online platforms to gather ideas that align with your vision.
In the end, a well-executed bathroom remodel has the potential to elevate your home's overall value, enhance your daily routines, and provide a soothing sanctuary where you can unwind and rejuvenate. So, take your time, plan thoughtfully, and enjoy the exciting journey of creating a bathroom that truly reflects your unique taste and lifestyle. To learn more about how Total Quality Construction can help, contact us today.