Visit Our Showroom for Cabinets!
Wednesday, February 24, 2021
Custom Cabinets Near You!
Are you designing a new kitchen or planning a renovation? There seem to be countless decisions you need to make to create a perfect kitchen that you'll be happy with for many years to come. Sometimes you can't decide until you can visualize what you think will work best for your kitchen. That's why it's so useful to have a kitchen cabinet showroom nearby.
Total Quality Construction wants to make things easier for you. We have a brand-new showroom featuring Showcase Cabinetry products you can visit for inspiration and see what cabinet styles, materials, and colors will fulfill your custom kitchen cabinet design needs. Members of our design team are on hand to answer any questions you may have about custom design options, installation, or anything else.
First Impressions
After all, when you enter a kitchen, one of the first things you will notice is the cabinetry. Old or outdated cabinets can take away from an otherwise inspiring and beautiful kitchen space. Total Quality Construction brings quality to every aspect of renovations and installations, including kitchens and their cabinets.
Total Quality Construction offers custom kitchen cabinets for sale with their kitchen remodeling services that will make your kitchen distinctive, functional, and beautiful.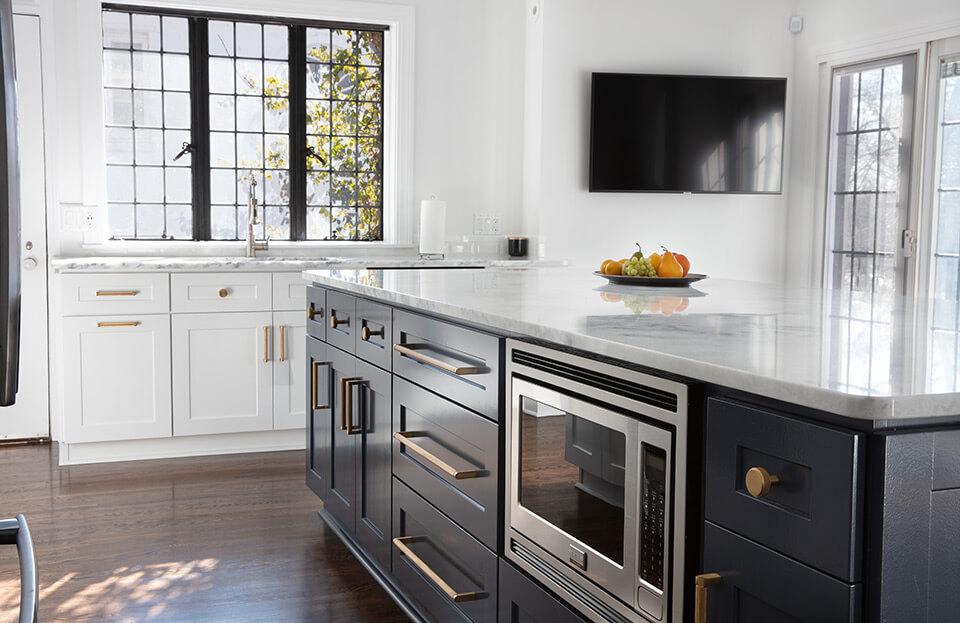 Why Kitchen Cabinets Matter
Kitchen cabinets do more than hold cooking utensils, dishware, and other pantry items. The style, wood, color, and hardware all work together to create a design for your space that can be eye-pleasing and utilitarian. You want cabinetry that functions well so you can take the most advantage of your kitchen possible, with no inconvenience or hassle. At the same time, it's said that attractive kitchens start with gorgeous kitchen cabinets.
Total Quality Construction can help you attain your dream kitchen. With custom cabinet designs, our skilled remodeling professionals' services, you can be sure that Total Quality Construction will help you realize your dream kitchen space.
The Importance of Choosing the Best Kitchen Cabinet For You
When looking for nearby kitchen cabinet stores, Total Quality Construction's Showplace Cabinetry showroom should be your first stop with their selection of stunning cabinets that would be an elegant addition to any home. They have a vast selection of door styles, wood choices, colors, and finishes, which means you are sure to find something that matches your taste.
Want to do some finely tuned customization? You can add accessories and accents from their showcase to help make your kitchen space equal parts functional and beautiful. The remodeling team at Total Quality Construction can help you decide which products, are the  best fit your kitchen design and help guide you through a complete plan to execute your vision.

Home Renovation Solutions Near You
Total Quality Construction offers a complete range of home remodeling services, including home additions and bathroom and kitchen renovations. They bring their expertise and quality products to homeowners all over the greater Toledo, OH area, including Maumee, Ottawa Hills, Perrysburg, Sylvania, and Monclova.
Reach out today to schedule a consultation with a design team, visit our new showroom, or view a portfolio of past projects.