Kitchen Remodeling 101: Essential Tips for Success
Wednesday, August 30, 2023
It's no secret. Kitchen remodels provide one of the highest returns on investment (ROI) of any home improvement project you can choose to do. This is because the kitchen is one of the most widely used rooms in a home and is often the focal point of activity for families. In short, a kitchen remodel can significantly increase the value of your home. Of course, a kitchen remodeling project can also provide improved functionality, enhanced comfort, and greater enjoyment of your home.
Whether you're looking to upgrade a few components or undertake a full-scale remodel, here are some essential tips for getting the most out of your new kitchen.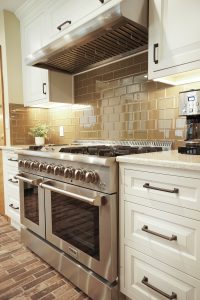 Understanding Your Kitchen Remodeling Goals
The first step in any successful kitchen remodeling project is to understand the goals you hope to achieve. Are you looking for something that feels like a total overhaul, or just minor changes? Do you want to modernize the look and feel of your kitchen, or are you more interested in improving its functionality? Having a clear vision of what you want allows you to make better decisions throughout the planning process.
Set a Realistic Budget
Consider the total cost of materials, labor, and any other expenses that might come up during your remodeling project. Make sure to factor in potential delays or added costs due to unexpected issues that may arise during the process. It's better to be safe than sorry, and the last thing you want is to go into a project with your budget stretched thin, only to run into an unforeseen problem that sends expenses skyrocketing.
Plan the Layout
When planning your layout, consider what kind of workflow works best for your needs—for instance, do you prefer a single-wall design or a galley style? Think about how much counter space you want, whether you want to install new appliances, as well as how many cabinets and storage options are necessary.
Finally, consider how many people will usually be in the kitchen simultaneously. There's nothing worse than having a cramped space that can't accommodate your family or guests.
Choose the Right Materials and Finishes
The materials and finishes you choose should not only contribute to the function of your kitchen (for instance, countertops that are easy to clean and maintain), but should also bring out the beauty of the space. Consider colors and textures that will blend in with the rest of your home and any special features or accents that will bring the whole design together.
Find the Right Professionals
Take the time to find the right contractor for your kitchen remodeling project. A poorly executed project can end up costing more in the long run if mistakes are made, or materials have to be replaced due to shoddy workmanship.
Consider factors such as their experience in similar projects, their communication style, and how organized they are. Make sure to ask plenty of questions about their process before making any commitments. It's also helpful to look up customer reviews and check online resources such as the Better Business Bureau when possible.
Timeline and Project Management
It's essential to come up with a timeline that makes sense for everyone involved. Kitchen remodels can be very disruptive if not managed properly, so lay out a plan for stages of the project and make sure to communicate this clearly with both the contractor and any other people in your home who may be affected by the remodeling process.
In addition, it's a good idea to check in with your contractor regularly—ideally at least once a week—to ensure that things are going according to plan. Clear communication and regular check-ins are key for a successful kitchen remodeling project.
By following these tips, you can ensure that your kitchen remodeling project goes smoothly and without any costly surprises. With the right strategies in place, you'll be able to create a space that will bring enjoyment for many years to come. If you've been thinking about remodeling your kitchen, now is a great time to get started, and we can help! For information about our remodeling services, contact Total Quality Construction today.