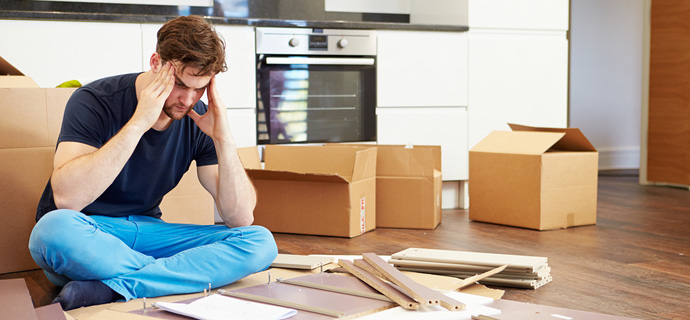 When it comes to planning a remodeling project, it's important to establish your vision, budget and calendar early in the process so that you'll have clearly defined goals and know what to expect. Here are a few quick tips to keep in mind before your next home remodeling project begins.
Getting Started
Q: Should I try to handle this home improvement job myself or hire a professional?
A: There may very well be some home improvement projects you can carry out yourself. However, it's always safer to hire a fully licensed professional. If you find a contractor you can trust you'll not only be able to have your project completed be also be able to rest easy with the knowledge that it has been done well. Plus, if they're local (which is always a good idea), they'll know your local building codes, as well as what permits will need to be drafted.
Q: How can I find a reliable contractor?
A: Of course, not every contractor is reputable. It's a good idea to contact the Professional Remodeler Organization, or PRO, to find the names of trustworthy contractors in your area. Every member of PRO is vetted extensively, with the organization looking into each company's financial situation, any reported customer service issues, their standing with the Better Business Bureau and their credit to determine which companies are worthy of inclusion.
Q: How can I ensure that the contractor I hire will address my needs and goals in full?
A: Well, the easiest way is to simply find a reputable company. However, regardless of the company you choose a well written, carefully drafted contract can help to prevent costly mistakes and make sure that your instructions are followed. This is the best way to all but guarantee that your needs will be met. If anything needs to change during the process be sure to get that in writing as well, as this will help prevent surprises down the line.
Q: Is it reasonable to choose a company based on the low cost of their services alone?
A: A good contractor will never overcharge. However, that certainly doesn't mean that you should go for the cheapest option. If a reputable contractor offers you a more "expensive" option that's only because it has some additional benefit that the lower priced one does not. Be sure to consider both quality and cost over the course of your project. Being focused entirely on one or the other can be detrimental.
General Remodeling Tips
Q: How can I be sure I'm making the right choices during the home improvement process?
A: There are often, almost always in fact, multiple solutions to accomplish a certain objective or need. Some of these options will be more expensive or take longer than others. Be sure to consider and discuss every viable option before making any major decisions.
Q: What if I don't have the funds necessary to accomplish all my goals?
A: If you have limited resources at your disposal then creativity could be your greatest ally. Sometimes it's not all about adding space but instead using pre-existing space efficiently. Want to expand your bathroom? Why not use the space currently occupied by your linen closet. Need more storage space? Find small spaces in-between wall studs for small niches or built-in shelves. Your home has more potential than you think. Also, if you don't have the room or budget to expand a room consider installing a bow window, a skylight or a vaulted ceiling, all of which can give the illusion of additional size. Basically, no matter what your budget might be there are ways to accomplish every goal.
Q: What about the other components of an addition (heating/plumbing/electrical…)?
A: This is a very good reason why you should always hire a professional for larger home improvement projects, like the ones from accurate electric plumbing heating & air. Every time you make a major renovation to your home there are complications beneath the surface. A qualified contractor can either deal with these complications or recommend someone who can. Also, if you're thinking about building an addition to your home it's always a good idea to consult with a heating/cooling contractor to ensure that your current system will be able to incorporate the space.
In the Kitchen
Q: Should I replace my appliances?
A: That depends. You may be tempted to hang on to your old appliances during the remodeling process to save you a little money upfront. If your appliances are fairly new this is probably fine. However, if they're older it might be more cost-effective in the long run to replace them. At the very least you'll save on monthly energy bills by installing newer, more efficient appliances.
Q: What type of flooring should I consider?
A: Good flooring is an extremely important component of any kitchen. It does much to unify a room's aesthetic and define its overall visual impact. Plus it's the part of the kitchen you'll be interacting with most often. Every flooring material (vinyl, wood, laminate, slate, tile…) has its own list of pros and its own price range. Your contractor can help you decide which will most fully meet your needs.
Q: What kinds of cabinets should I consider?
A: Consider your cabinet options carefully. There's a great resource to have, as they can add beauty to your kitchen while increasing its functionality and storage potential. Traditional cabinets are a great option, but there are other additions to consider as well like tilt front doors, spice racks and slide-out wire baskets. There are also a variety of wood types and materials to consider. Be sure to consult your contractor, and don't be afraid to ask lots of questions.
In the Bathroom
Q: What material should I use for my floor?
A: There are plenty of great materials to consider, each with their own advantages. However, for areas around the tub and sink which will frequently get wet we'd recommend cultured marble sheets. They're cost-effective and easy to maintain, making them a great option.
Q: How can I increase the size of my bathroom on a budget?
A: Rather than adding on space it might be better to simply utilize your existing space more effectively. Closets or other small rooms nearby can provide additional space for your bathroom. You can also get rid of your large bathtub and replace it with a shower or install a pedestal sink instead of a vanity cabinet. There are plenty of ways to increase the space of your bathroom that won't break the bank.
Q: Should I purchase a new tub as a part of my remodel?
A: That depends on your needs. Certain tubs are built for certain purposes. As stated above, if you want to save a little space you could convert your tub to a standing shower. You could also install a walk-in tub, which can be used by elders and those with mobility issues with ease. Or, perhaps you could add a jetted tub for a more spa-like experience. (If that's your goal, there are other spa-like accessories you should consider, like installing a floor outfitted with an electric warming system using the Callidus Electric Las Vegas, NV services). There are a great many options out there. However, if you do purchase a jetted tub be sure to have your water heater inspected, as tubs of that nature can sometimes overextend poorly optimized water heaters and cause problems in the future.
If you have any other questions be sure to contact Total Quality Control at (419) 843-6737. Thanks for reading.